When we were furnishing my room, we planned on putting a shelf with many compartments on a plain wall over my bed. It was a place for my bric-a-brac I had collected over the years- miniature porcelain puppies, matryoshka, dala horse and everything pastel and cute.
Well...It's been over a few years since I first came to the idea to put up the shelf and I've pretty given up on the idea. I bought some pictures to replace the shelf *temporarely* but today, only 2 of the 4 pictures I bought are still up and other 2 are represented by marks made with pen when I was putting the pictures up to make sure they are straigt (OCD alert!!)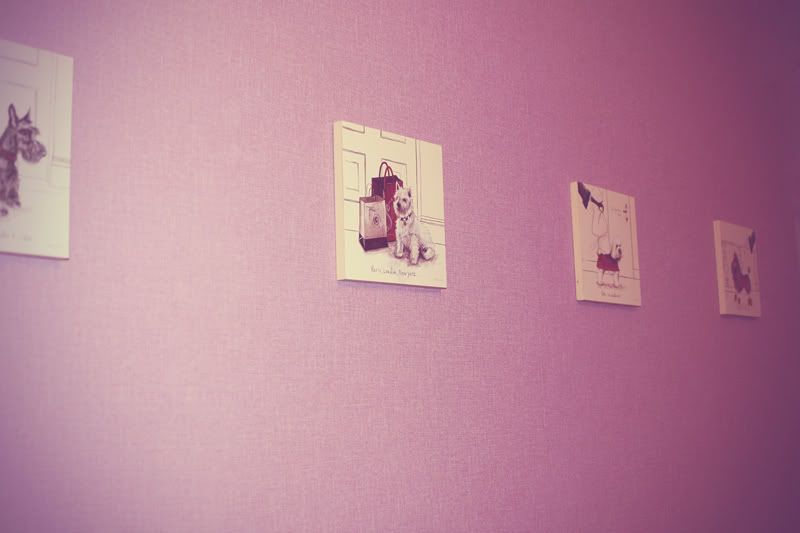 Since 2 picures is decidedly worse than 4, I decided to so something about it and I made myself a bunting, to replace the paintings.
How to make your own bunting?
Making it was fairly simple!
1. Print out different pictures of whatever you find attractive. You can use pretty fabrics as well (great way to reuse your fabric loss)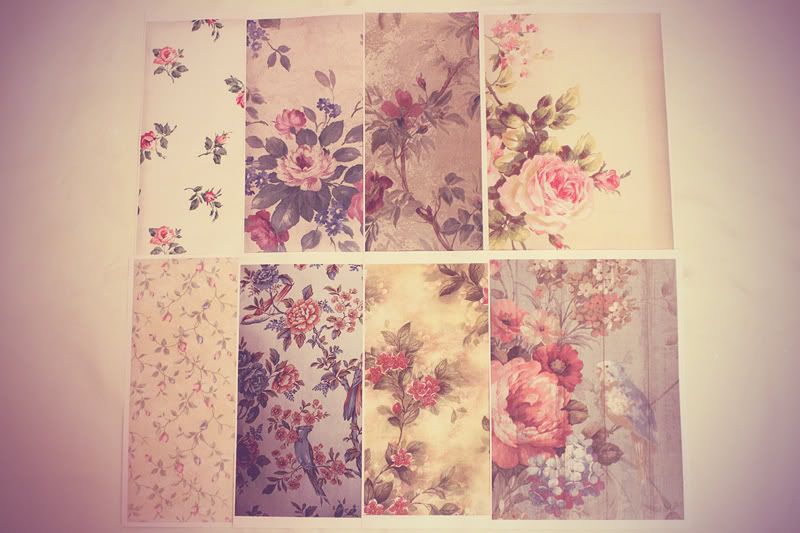 2. Draw and cut out a model for your flags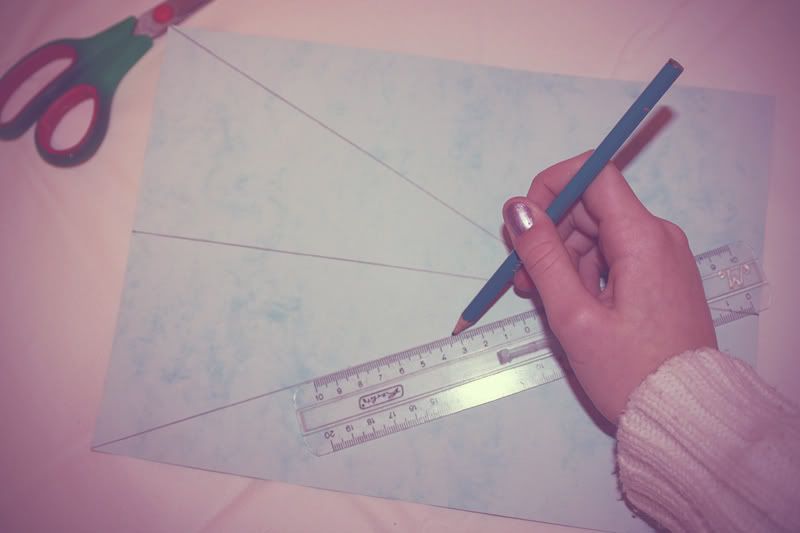 3. Using the model cut out the flags from the fabric/paper you chose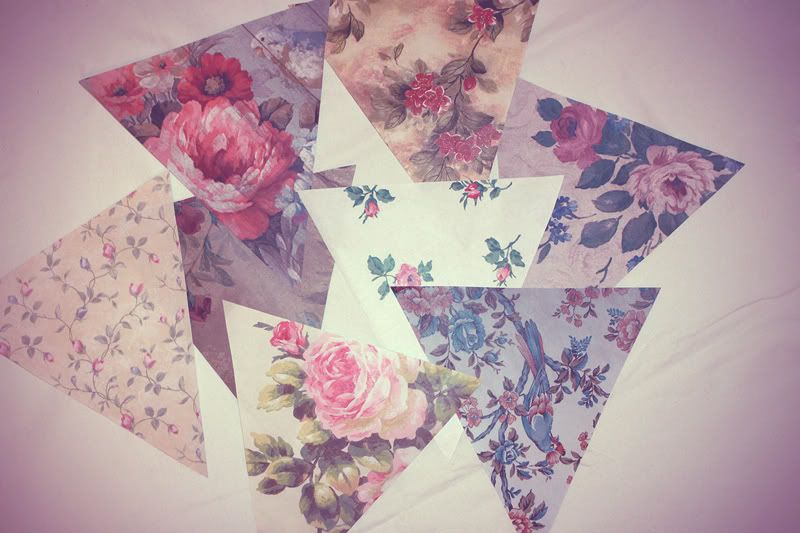 4. Glue the flags to a ribbon (or if using fabric, sew the flags to it)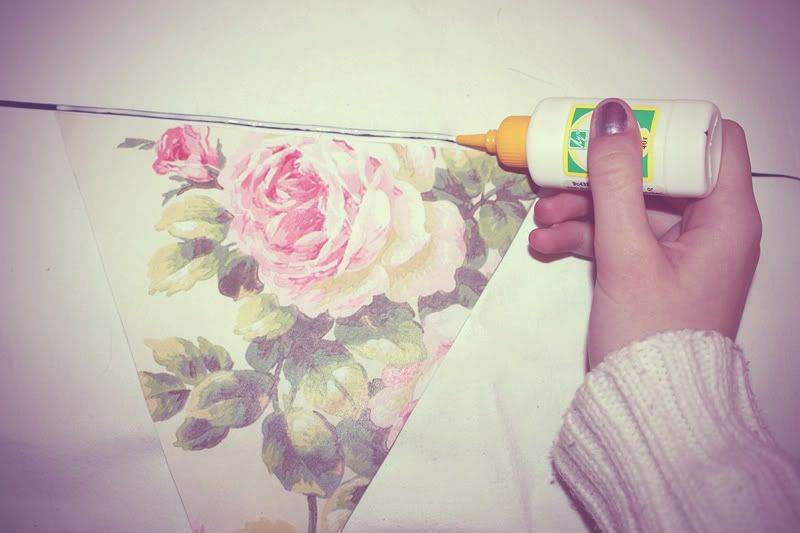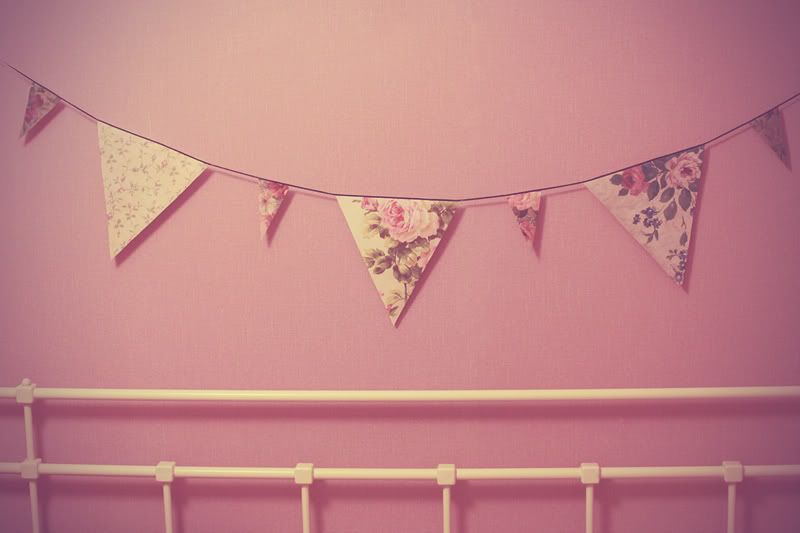 Seinale minu voodi kohal oli algselt planeeritud riiul paljude sahtlikestega kuhu ma saaksin paigutada oma "nipsasjad". Aja jooksul on neid nipsasju kogunenud väga palju- miniatuursed portselanist koerad, matrioshka, dala hobune ja kõik vähegi pastelsed ja armsad asjad, mis on kokku ostetud, sest "Kunagi tuleb mu seinale riiul, millel on palju sahtleid ja need vajavad täitmist".
Well
...riiuli algsest ideest on nüüdseks möödab paar aastat ja ma olen üsna alla andnud selles osas. Küll aga otsin ma kunagi neli pildikest mis pidid ajutiselt riiuli mitte olemasolu korvama. Tänaseks on neljast pildilst seinal alles kaks ja teist kahte esindavad kaks harilikukriipsu mis sai seinale joonistatud selleks, et pildid ikka sirgelt paika saaks
(OCD alert!!!)
Kuna kaks pilti on ilmselgelt halvem kui 4, otsustasin ma midagi ette võtta ja meisterdada oma seinale ühe
buntingu
. Eesti kelles ma selle sõna vastet ei oska öelda, aga see kujutab endast siis riidest, paberist, plastikust (või millest iganes) lipukesi nööri küljes mida kasutatakse dekoratiooniks.
Kuidas valmistada endale oma

bunting

?
1. Prindi välja erinevaid ilusaid pilte või kasuta riidetükke (hea juhus ära kasutada õmblemisest üle jäänud riidetükis)
2. Tugevamast paberist lõika välja lipu šabloon, mille järgi lippe lõigata.
3. Šablooni abiga lõika välja lipud.
4. Liimi paber lindi külge (riidest lippude puhul võib ka õmmelda)
5. Riputa oma

bunting

üles!